Welcome to the Free Hands Academy where the Free Hands revolution is alive and well. This year will mark the 40 year anniversary of the first production run of Chapman Sticks back in 1974 as well as the 45th anniversary of the publication of Free Hands and we intend to learn and celebrate!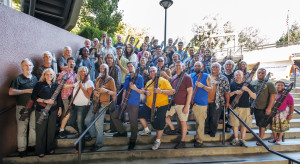 The FHA is preparing to stage the largest single Stick event in history. Starting Wednesday, August 13, Stickists from all over the world will be descending on Los Angeles California in preparation for a 5 day / 4 night musical gathering that will feature some of the biggest names in the Stick Community. The event will again be hosted in the beautiful hills of Bel-Air in Southern California at the AJU, where attendees will stay on campus for the duration of the event.
Our program for Summer of 2013 included 25 Stick Players from all over the world. Our faculty included Greg Howard, Don Schiff, Kevin Keith and Gene Perry, Emmett Chapman as well as a special appearance by jazz innovator and Stick pioneer Alphonso Johnson.  All of our 2013 staff will be returning, including Emmett. The 2014 faculty roster has expanded as we are anticipating over 100 Stickists from all over the globe to be in attendance – this year's lineup will include Stick legends Bob Culbertson and Steve Adelson as well as pyrotechnician NS player Gary Jibilian!
In addition to formal instruction during the afternoons, the FHA continue to host special events throughout the afternoons and evenings. Diana Lang, Spiritual Teacher and Director of the LifeWorks Center for Growth in Los Angeles will lead afternoon Yoga / meditation classes on Friday, August 15th, specifically designed for Chapman Stick players. Her guidance promises to strengthen posture and invigorate your senses. In the evenings, there will be concerts featuring all of our faculty as well an evening of attendee performances, promising a night of music with styles and techniques from all over the world. We will also again be showing the 40 minute work in progress documentary on Emmett Chapman's life work by filmmaker Dan Chapman, entitled "Emmett". A Q&A session with the Director will follow the showing.
The event will climax in an offsite celebration for Stick Enterprises in Sherman Oaks, where there will be more guest appearances, announcements and frivolous merriment as we toast to 40 years of the Chapman Stick!
The FHA boasts a full-service model for all our students. This means that a single payment covers meals, materials and accommodations for the entire event – all you need is your instrument! The FHA has negotiated this deal for a limited number of students, if ever you have wanted to Meet the Masters of the Chapman Stick, register on the FHA site and reserve your space for this once in a lifetime gathering of Stickists.
Google+